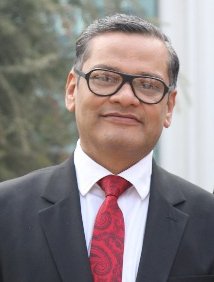 Pro. (Dr.) Ajai Singh
Director, All India Institute of Medical Sciences, Raipur
Director's Message
AIIMS Raipur is one of the apex healthcare Institutes established by the Ministry of Health & Family Welfare, Government of India under the Pradhan Mantri Swasthya Suraksha Yojna (PMSSY), with the aim of correcting regional imbalances in quality tertiary level healthcare in the country and attaining self sufficiency in graduate and postgraduate medical education and training.
AIIMS Raipur has been established by an Act of Parliament on the lines of All India Institute of Medical Sciences in New Delhi to impart both undergraduate and postgraduate medical education in all its branches and related fields, along with nursing and paramedical training. The establishment of a health care Institute of this magnitude is not only huge but very complex as well. It is a challenging task to integrate state of the art modern healthcare services at one place.
Within a short time since its inception, AIIMS Raipur has been able to provide the much needed platform for scientific exchange, collaborations, public awareness health programs for medical professionals, scientists and general public of Central India.Several CMEs, Workshops, Guest lectures, quiz competitions and training programs have been regularly held at the institute which kept the scientific, academic and research atmosphere bustling.
A developing institute provides a life time opportunity to the founder faculty to establish an institute with the ethics that they aspire for. It also poses some unique challenges.The faculty of AIIMS Raipur has worked relentlessly to establish their departments, improve patient care and advance the teaching and research at the institute. They have represented AIIMS Raipur at various national and international scientific platforms, have been awarded prestigious fellowships, have undertaken career advancement trainings, developed teaching and training modules and have published their research in high impact journals.
The institute has celebrated its first ever inter-college fest named ORIANA 2017, which was a successful event and one of its kind in the Central India organized by the students of AIIMS Raipur. 
The administrative wing, engineers, support staff and all other employees of the institution continue to work hard to build the institution to the expectation of the public.I am confident that AIIMS Raipur will continue to get full support from MoHFW, GoI and thus grow by leaps and bounds and become a Center of Excellence in teaching, patient care and research.
Address:
Office of the Director, Room no. 1102, 1st Floor, Medical College, Gate no. 5, AIl India Institute of Medical Sciences, Raipur (Chhattisgarh) 492099
Phone (Office) : 07712572999